InterQuest Group
Providing access to the best jobs in the highest growth areas of the global digital economy
InterQuest Group specialise in technical recruitment, enabling businesses to meet the demands of the new digital economy. We work closely with their internal marketing team and act as their outsourced digital department.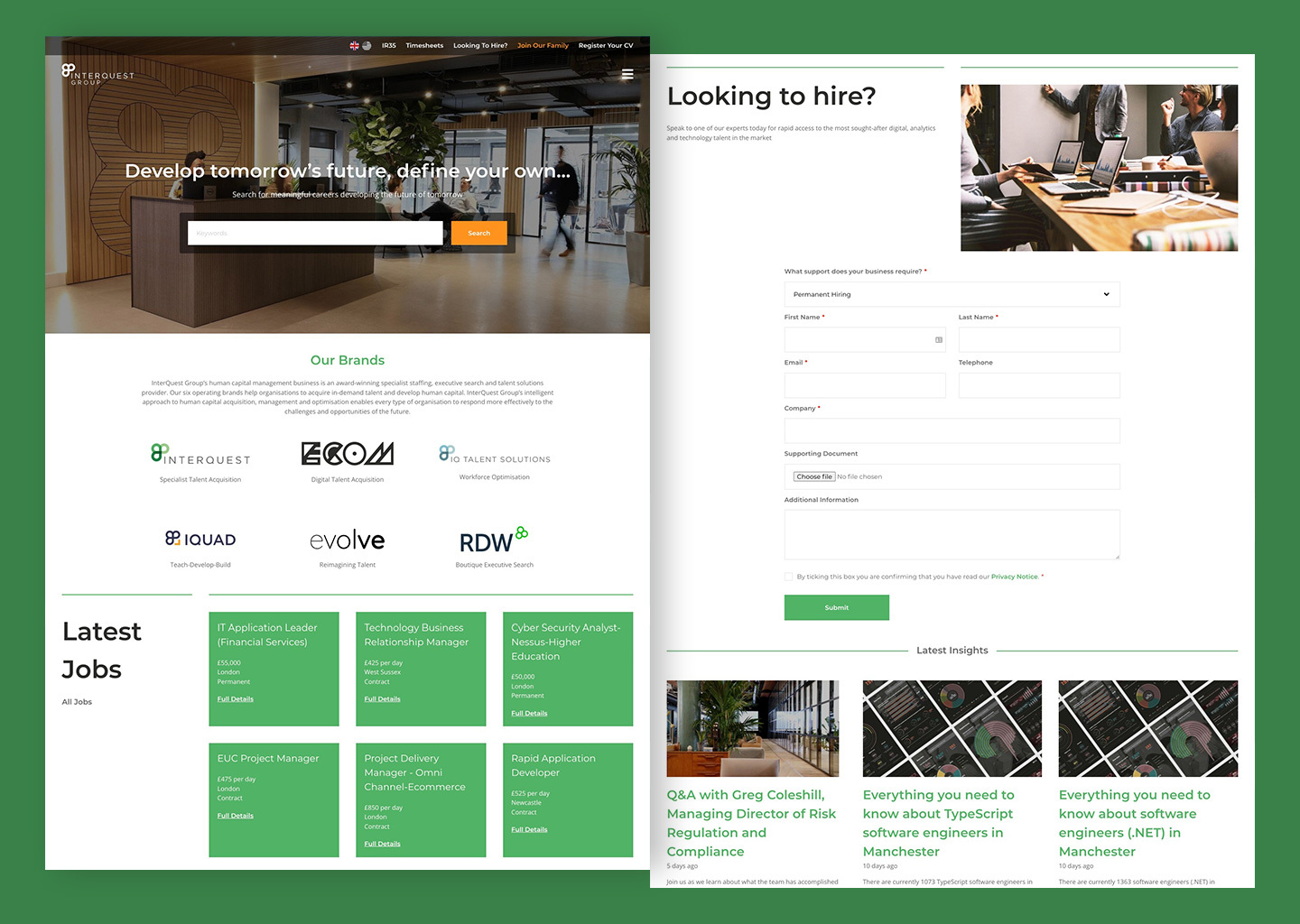 We rebuilt the InterQuest website from the ground up, with a key focus on performance and usability
As time goes on, coding best practices change and content management systems can become difficult to maintain and at risk of security breaches. For a client like InterQuest, who receive a massive amount of user data each day, it is vital that their technology is kept up to date and meets the latest industry standards.
We recommended that the main InterQuest Group website should upgraded to the latest version (Craft 3), because of the flexibility it offers for the client and for us to develop and maintain. The InterQuest Group website is constantly changing, and they need a solution that allows them to add their own content, in the style they want, whenever they want. Thanks to Craft's flexible modular system we managed to build a system that gives the client great control of content and layouts, without the need for technical skills or coding know-how.
Another great success of the project has been the technical improvements that have led to super-fast page loads, which is very important for SEO!
Helping to maintain websites for InterQuest and their various subsidiaries
We develop and support the main InterQuest Group Craft CMS website. The organisation also includes several sub-brands, including some with their own stand alone Craft CMS websites that we develop and provide ongoing support.

A CMS that can handle large amounts of data
We built the website to integrate with InterQuest's in-house software, allowing them to automatically post jobs and receive applications. Due to the volume of jobs available on the website we implemented a custom search feature using the Algolia JavaScript API. This allows for an almost instant return on searches, improving the website's usability, and eventually increasing conversions.
The project was expertly managed by Made by Bridge, from first inception and business case creation to the project management, execution and the results – Chris and the team guided us through it all, doing all the major legwork to ensure that we could focus on where we add the most value.
Tom Walters, InterQuest Group Marketing Manager
Ready to talk us?
If you have a project you'd like to discuss we would love to hear from you.
Contact us